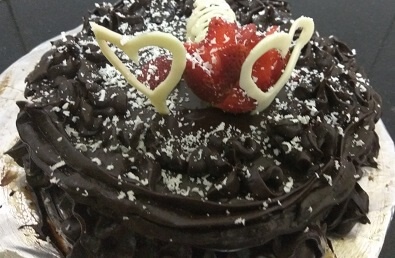 Ingredients
(for 8 inch cake)
1 ½ cup all purpose flour

1 cup granulated sugar

½ cup cocoa powder

1 tsp baking soda

½ tsp salt

½ cup oil

1 tsp vanilla essence

1 cup buttermilk or (1 cup milk + 2 tsp vinegar)

Method (How to make eggless chocolate cake at home)
Preheat oven to 180 degree C.

Sieve all dry ingredients except sugar in a bowl (maida, salt, baking powder)

Mix buttermilk and sugar and allow it to dissolve, add oil and mix well.

Add dry ingredient and mix well. Do not over beat or over mix the batter.

Grease oil on a 9 inch pan or place butter paper on bottom.

Pour cake mixture in the pan and tap 2-3 times to remove airbubbles.

Bake in preheated oven for 25 to 30 minutes or till toothpick inserted in centre or the cake comes out clean.

Allow it to cool down completely on wire rack.