Whole Wheat Honey Banana Loaf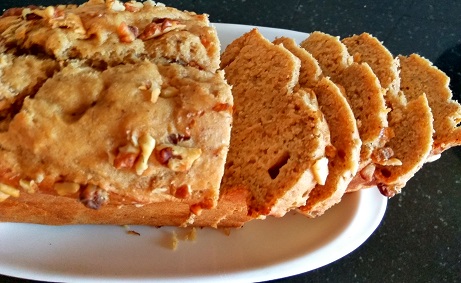 1 cup Whole wheat Flour

2 small ripe Bananas

¼ cup Honey or brown sugar

¼ cup vegetable Oil

2 tbsp chopped walnuts

½ tsp baking powder

¼ tsp baking soda

¼ tsp cinnamon powder

A pinch of Salt
Method (How to make banana honey loaf with whole wheat flour)
Peel bananas and put them in a bowl mash the bananas using a fork or blender till smooth paste.

Add honey and vegetable oil into the banana and mix well, if you are using sugar mix till sugar dissolve fully.

Sift whole wheat flour, with baking powder, baking soda, cinnamon powder and salt together. Do this two times to make the dry ingredients remove any lumps.

Add the dry ingredients into the wet ingredients and fold it very well with spatula.

Add some half of the walnuts and mix.

Pour the batter in a greased or butter paper lined loaf pan.

Sprinkle remaining walnuts on top of the batter

Bake this in a 180 degrees preheated oven for about 2

0

-25 minutes or till an inserted toothpick comes out clean

Let it cool down on wire rack to room temperature before you cut it into slices.