Eggless Tutti Fruiti Cookies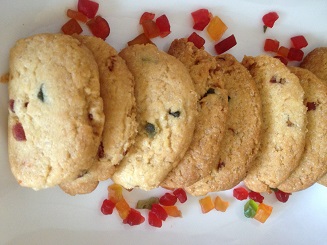 1 cup refined flour or wheat flour (or half maida and half aata)

½ cup powdered sugar

70 gram (6 tbsp) unsalted butter (at room temperature)

A pinch of salt

½ tsp rose essence

½ cup tutti fruiti

2 tbsp milk
Method
(how to make aata cookies with tutti fruiti)
Take butter in a deep bowl and whisk nicely, add powdered sugar and mix with hand mixer till fluffy and light. It will take around 5-7 minutes.

Now add rose essence or you can add any fruit extract or essence and salt.

Mix well extract with the creamed mixture.

Add 1 cup shited whole wheat flour or refined flour or can be half half.

Now add milk and tutti fruit gently mix with your hands and gather the whole mixture in a dough. Now roll the dough gently having a width of 0.5 cm at the edges.

Cut with a cookie cutter, cut the cookie slices, roll agains with remining dough and cut with the cutter.

Greased a baking tray and place cookies on greased baking tray.

Preheat oven at 160 degrees C. and bake cookies for 15-20 mins till the tops become light golden. Since. Switch off the oven.

After few minute, place the cookies on a wired rack. Let them cool at room temperature. once cooled, store them in an air-tight box or jars.

Serve these cookies as a tea time snack.