Sweet And Sour Lemon pickle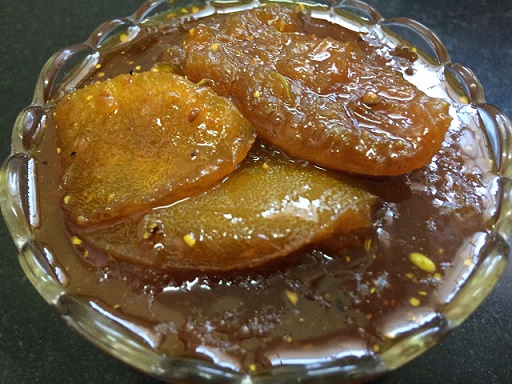 500 gram fresh lemon

500 gram jaggery

100 gram ginger powder

1 tbsp salt

4-5 big cardamom

5-6 cloves

1 tsp turmeric

1 tsp chilli powder

2 tsp garam masala

1 tsp black salt

½ tsp carom seeds
Method (How to make sweet and sour lemon pickle and home)
Cut lemon 1 into 8 pieces and remove seeds.

Add salt and turmeric powder and keep in the airtight container for 2 weeks.

After two weeks

Coarsely grind cardamom seeds, clove, and carom seeds.

In a deep pan or wok add jaggery and ½ cup water and boil till jaggary melt.

Add lemon with juice, ginger powder and coarsely ground spices, black salt.

Boil on low flame till jaggery become little thick and sticky switch off the flame and let it to cool down completely.

When cool down completely, keep in the airtight container and use after 15 days.

It can be store upto 1 year.