Amla pickle - Indian Gooseberry Pickle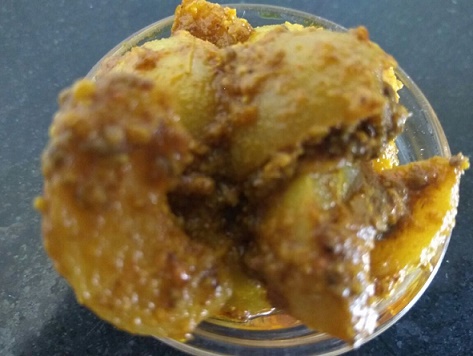 250 gram amla

100 ml mustard oil

1 tbsp mustard powder

1 tsp fennel seeds

½ tsp fenugreek seeds

¼ tsp calonji

¼ tsp carom seeds

1/8 tsp asafetida

1 tsp chilli powder

1 tsp turmeric powder

1 tbsp salt
Method (How to make amla pickle at home)
Boil amla with one cup water till soft. Remove the seed and make pieces of amla.

Dry roast fennels seeds, fenugreek seeds, calonji, carom seeds and make coarse powder.

Heat oil till start smoke, wait for cool down slightly.

Add asafetida, coarse powder, turmeric, chilli powder, salt and amla pieces and mix well.

When cool down completely keep in the airtight container.

Serve after 4-5 days, and can be store for 5-6 months.