Whole Wheat Flour Eggless Plum Cake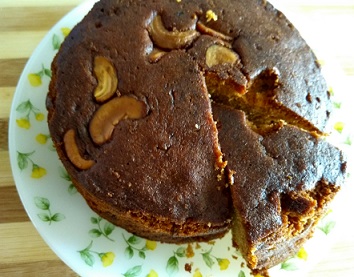 2 cup whole wheat flour

(or half maida half wheat flour)

1 ½ tsp baking powder

½ tsp baking soda

½ cup and 1 tbsp brown sugar

½ cup and 1 tbsp white sugar

½ cup yogurt

1 cup oil or melted butter

1 tsp vanilla essence

½ tsp cinnamon powder

½ tsp nutmeg powder

1 cup apple juice

½ cup dates (chopped)

2 tbsp raisins

½ cup tutti fruity

1 cup chopped dry fruits (apricot, cashew, almonds, walnuts, pistachios)

¼ cup hot water
Method (how to make whole wheat flour eggless plum cake at home)
Soak all dry fruits, dates, raisins, and tutti fruits in the apple juice atleast one day before and keep in the fridge. (bring the mixture on the room temperature before making the cake).

Mix whole wheat flour, baking soda, baking powder, cinnamon powder, nutmeg powder and salt together and sift atleast 2 times and keep aside.

Mix hot water, oil or butter and sugar and mix well.

Add yogurt and give a nice stir.

Now add dry ingredient into the wet ingredients slowly and fold with spatula.

Place butter paper in a cake mould and grease with oil pour all cake mixture into the cake mould and tap to remove excess air.

Pre Heat oven on 170 degree c and place cake mould in the oven and bake for 40-45 minutes or till tooth pick insert come out clean.

Remove from the oven and keep aside to cool down completely. When cool down completely de- mold and cut into pieces and serve.