Bhakarwadi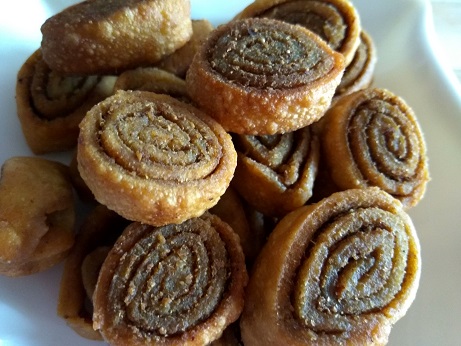 1 cup gram flour

1 cup whole wheat flour

3 tbsp oil

For stuffing

1 tbsp sesame seeds

1 tbsp poppy seeds

1 tbsp coriander seeds

1 tbsp desiccated coconut

4-5 whole red chillies

¼ tsp turmeric

¼ tsp garam masala

½ tsp dry mango powder

1 tbsp sugar

Salt as per taste

1 tsp fennel seeds

½ tsp cumin seeds
Method (How to make bhakar
w
adi at home)
Mix gram flour and whole wheat flour, add ¼ tsp salt and 3 tbsp oil. Mix everything with your hand.

Add enough water and knead stiff dough. Cover with wet cloth and keep aside for 30 minuts.

For stuffing

Heat pan add fennel seeds, cumin seeds, and coriander seeds and dry roast till light brown. Add whole red chilli and sauté for few seconds. Remove from the pan and keep aside.

Add sesame seed and poppy seeds in the same pan and dry roast till sesame seeds become light brown, add desiccated coconut and fry till nice aroma came. Switch off the flame and keep aside to cool down completely.

Mix everything with roasted thing and make coarse powder. Masala powder is ready divide it into the 3 equal part.

Now make three part of the kneaded dough and make balls.

Now take one ball and roll it like a chapati into a flat disc of 8-9 inches. apply some water over the chapati and put 1 part of the masala on it. Spread the masala evenly and start folding it into a roll. Stick the corners with the help of little water.

Cut the roll into pieces of 1/2 inch and keep them on a plate. Prepare the other rolls in the same manner and cut them into pieces.

Heat oil in the pan, and put some pieces of the bakharvadi. Fry it on very low flame till brown and crispy.

Drain out from the oil on absorbent paper and fry all bhakarvadi on the same manner.

Keep them cool down completely, and store in airtight container.

It can be store for 15-20 day in airtight container.